Gaming Blog | Anime Store | Kawaii Shop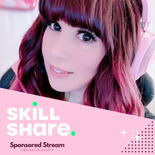 Been almost 7 months since my last face-cam live stream oAo! I had an AMAZING time working with Skillshare on a sponsored stream, where we got to l...
Join Stream & Help Create New Products May 4th @ 5PM ET!Have ideas for items you'd LOVE to see Tasty Peach create? This is your chance to join ...